Regular price
$100.00 USD
Regular price
$139.00 USD
Sale price
$100.00 USD
Unit price
per
Sale
Sold out
Dermaxgel™is a biodegradable, non-animal based,injectable gel that helps to instantly restore your skin's volume and smooth away facial wrinkles and folds like your "smile lines" or "parentheses" (nasolabial folds—the creases that run from the bottom of your nose to the corners of your mouth).
Dermaxgel™is indicated for injection into the mid to deep dermis for correction of moderate to severe facial wrinkles and folds (such as nasolabial folds).
What does Dermaxgel™ do?
Dermaxgel™ injectable gel temporarily adds volume to facial tissue and restores a smoother appearance to the face.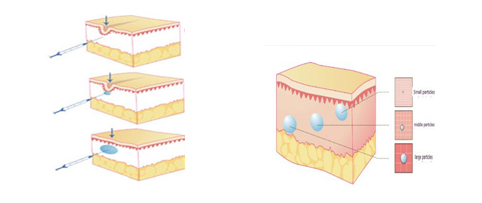 Trade name:Dermaxgel TM
Generic name:Modified Sodium Hyaluronate Gel For Injection
Model: Deep 10ml
Gel Size:0.28-0.50mm
Needle size: no needle
Duration:6-18months
Concentration: 20mg/ml ha
Where to inject : Deep layer of dermis and of surface layer of subcutis
Recommended Indications:Derm facial wrinkles and folds ,like the nasolabial folds ,Lips Augementation and Chinline ,cheeks .
CONTENT
Stabilized hyaluronic acid = 20mg/ml; Sodium chloride physiological solution q.s; PH 7
DESCRIPTION
It is a sterile pyrogen-free physiological gel of crosslinked hyaluronic acid, of non-animal origin.
It is a colorless, odorless and highly viscous aqueous gel. It is supplied in a glass syringe with a luer-lock fitting. The contents of the syringe.Have been sterilized using moist heat. The product is for single use only. Disposable sterile Needles are provided with each syringe.Information about the sterilization method and size of the needle is printed on its packaging. The number of units per package and the volume contained in each syringe is as started on the outer package.
INTENDED USE
It is intended to be used for intradermal implantation to correct defect of soft tissue after accidents and trauma.
STERILIZATION
The syringe containing is sterilized by steam. The needle is sterilized by means of gama radiation
MODE OF ACTION
This product is a filler that adds volume to the tissue. The volume and the lifting capacity originate from the ability of.The hyaluronic acid to attract high amount of water, Which is further increased by the stabilization process.It will in time undergo isovolemic degradation, Which means that the product maintains its Volume even during degradation.
INDICATION
It is indicated for soft tissue augmentation. The depth of injection is the dermal layer of the skin.For facial areas with limited soft tissue support and soft tissue cover,e.g.the periorbital Region, injection into the subcutaneous fatty tissue or supraperiostal administration are recommended.
Share
Shipping

Shipping will be through by randomly by DHL ,Fedex ,Ups .
International: $35-60.00 ( 2-10 working days),finally will be according to the package size ,weight and countries. *This does not include any delays from customs*
View full details